Seeking Common Ground among a multitude of viewpoints.
The Adirondack Journal of Environmental Studies
"Seeking Common Ground among A Multitude of Viewpoints"
The Adirondack Journal of Environmental Studies (AJES) exists to foster a dialogue about the broad range of issues that concern the Adirondacks and Northern Forest. AJES serves to bridge the gaps among academic disciplines and among researchers and practitioners devoted to understanding and promoting the development of sustainable communities, both human and wild. The journal purposefully avoids serving as a vehicle for any single or special point of view. To the contrary, in searching for common ground AJES welcomes variety and a broad spectrum of research and opinion from its contributors.

Since 2015, AJES has been published by the Kelly Adirondack Center at Union College in partnership with the Adirondack Research Consortium.
Volume 22 to be published in March 2018.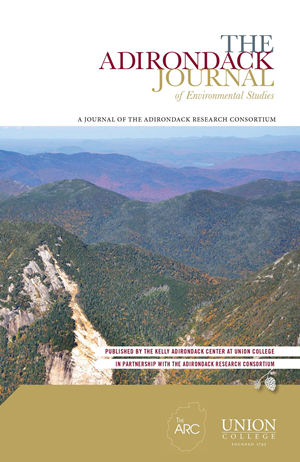 AJES VOLUME 21 NOW AVAILABLE!
Volume 21 of AJES is a snapshot in time of the ageless geology of the Adirondacks. The authors and editors have worked tirelessly to make it an important reference document. As such, we are expanding our normal distribution lists to make it available to as many people as possible and providing copies to all the public libraries in and around the Adirondack region. Geological study of the Adirondacks began in the 1830s with the forays of Ebenezer Emmons, under the aegis of New York State. Scientific research has continued unabated, and in recent years, great strides have been made in unraveling the complexities of the plate tectonic history, bedrock geology, glacial processes, and soil/water systems. Much of this research has been spurred by economic and environmental concerns, but in the main, the Adirondacks are studied because they are fundamentally interesting as a geological terrain set in a landscape of preserved, 'forever wild' ecosystems.

To learn more about Volume 21, click HERE.
To receive a copy of Volume 21, become an "AJES Member" of the Adirondack Research Consortium and the Kelly Adirondack Center by sending your complete mailing address information and a check for $25.00 to:

Mr. Caleb Northrop, Special Assistant to the President's Office and Kelly Adirondack Center
Feigenbaum Hall, Union College, 807 Union St, Schenectady, NY 12308

You can also join by using your credit card by using the link below.

AJES VOLUME 20
Copies of AJES Volume 20, a bird themed edition published in 2016, are still available. If you would like to receive a copy, please contact us directly. There is a $20.00 handling and postage fee to receive your copy. Volume 20 Table of Contents.
Please contact us if you would like to publish in future editions of AJES.
See the links below for the table of contents for earlier volumes of the Journal.
To get a copy of a back issue if available, or to get a copy of a particular article, please contact our office.
There is a $20.00 handling and postage fee for each request.
AJES VOLUME 19
AJES VOLUME 18
AJES VOLUME 17
AJES VOLUME 16
AJES VOLUME 15
AJES VOLUME 14
AJES VOLUME 13
AJES VOLUME 12
AJES VOLUME 11
AJES VOLUME 10
AJES VOLUME 9
AJES VOLUME 8
AJES VOLUME 7
AJES VOLUME 6
AJES VOLUME 5
AJES VOLUME 4
AJES VOLUME 3
AJES VOLUME 2
AJES VOLUME 1.2
AJES VOLUME 1.1


Purchase Membership via PayPal: