A Message from the President, Amanda Lavigne
Dear Friends,
It is hard for me to believe, but I am in my second year as President of the Adirondack Research Consortium! On a personal level, I have left the not-for-profit and academic job sectors to start my own consulting business based in Saranac Lake. I believe as an Adirondack businesswoman, I bring unique perspectives to the work of the Adirondack Research Consortium which add to those of a very dynamic Board of Directors. I look forward to continuing my work with them as President.
As a valued friend of our organization, I want you to know about some of our ongoing programs and activities. On February 22nd we held the fifth Women in Leadership Series Workshop at Paul Smith's College featuring a keynote by SUNY Potsdam President Dr. Kristin Esterberg. Eighty-five women and men participated in the program designed to explore the challenges and opportunities for women in leadership, and offer opportunities to learn about available resources and workplace strategies.
We are busy planning the 26th Annual Conference on the Adirondacks which will be May 22nd and 23rd at the Conference Center in Lake Placid. Our program is developing very nicely. We have panels on Ian McHarg's 50th Anniversary of "Design with Nature" and its influences in the Adirondacks, and Protect's report on economic and population trends. We have a keynote by Yale professor Stephanie Hanes Wilson on the intersection of culture and conservation, a theme that resonates in the Adirondacks. Laura Valeria Gonzales-Murphy will be talking about NYS immigration policies and programs available in the region. We are launching a social science research initiative in partnership with Paul Smith's College and will be presenting details of that program.
This summer in partnership with Union College we will publish Volume 23 of AJES with a focused section on communicating science and including other more organically themed articles. Next fall we look forward to again holding the popular Forestry Roundtable in partnership with the Empire State Forest Products Association on the implications of forest health issues.

None of this would be possible without the generous support of our Consortium partners and friends who share our passion for promoting research and information to inform policies impacting the region. Together we are finding ways to better serve our members, partnering organizations, and the Adirondack community. Thank you!
I welcome your ideas and suggestions for future programming and invite you to consider supporting our work. We can't do it without you! I hope to see you soon at an upcoming event!

With best regards,

Amanda Lavigne
Spring 2019

In Memory of our Past President Bruce Selleck (9/30/49 - 7/31/17)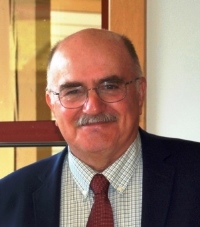 Bruce Selleck pictured above at the "Women in the Arts and Humanities' workshop held at the VIEW in Old Forge on June 21st, 2017. Photo by Frank Pine
Read a tribute to Bruce from
Tracey E. Hucks, Provost and Dean of the Faculty,
James A. Storing Professor of Religion and Africana & Latin American Studies,
Colgate University.
201 Countess Alicia Spaulding-Paolozzi Environmental Research and Education Center
Paul Smith's College Campus